»The purpose of travelling is to get to a destination, the purpose of hiking is to be on the move.«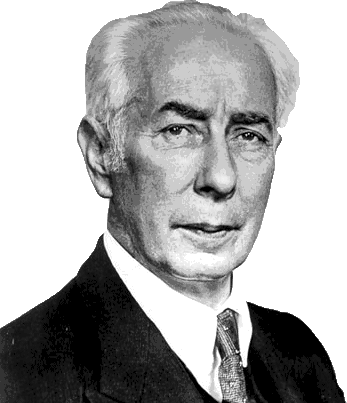 Theodor Heuss, first German Federal President, 1884 - 1963
P opular German hiking region with five letters? Of course, the Eifel!
Since the Romans built a fortified road between their provincial capitals of Trier and Cologne 2,000 years ago (and a water pipe from Nettersheim to Cologne right next to it), the low mountain range has been regarded well developed in terms of transport.
Roman legionnaires, medieval knights or early modern merchants were hardly on the move for pleasure, and they probably didn't even know a Zen motto ("The Way is the Destination"). Good air, beautiful scenery and exercise therapy were given as an encore, they didn't even talk about it.
This should change only much later, but then thoroughly....
Top hiking trails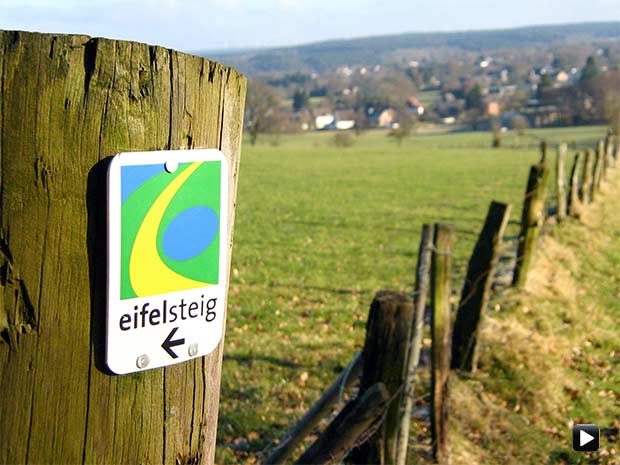 More Eifel is not possible: Premium hiking trail, Top Trail of Germany - the Eifelsteig, the 313 km long long-distance hiking trail between Trier and Aachen, has earned its awards. The route leads through the National Park - and over the Wackerberg! Hiking enthusiasts all over Germany have declared themselves in favour of the Eifelsteig as "Germany's most beautiful hiking trail 2015".
Not quite as long (116 km in total), but with a few archaeological highlights, the Roman canal hiking trail follows a 2,000 year-old masterpiece of engineering, including Kall at the foot of the Wackerbergs.
The name says it all on the Castle Route; the panoramic tour Eifel Views offers beautiful views of the Eifel landscape and the Pingenwanderweg leads from Kall to Wackerberg as an educational mining trail.
And all this is just a small selection from the hiking offer of the Northern Eifel...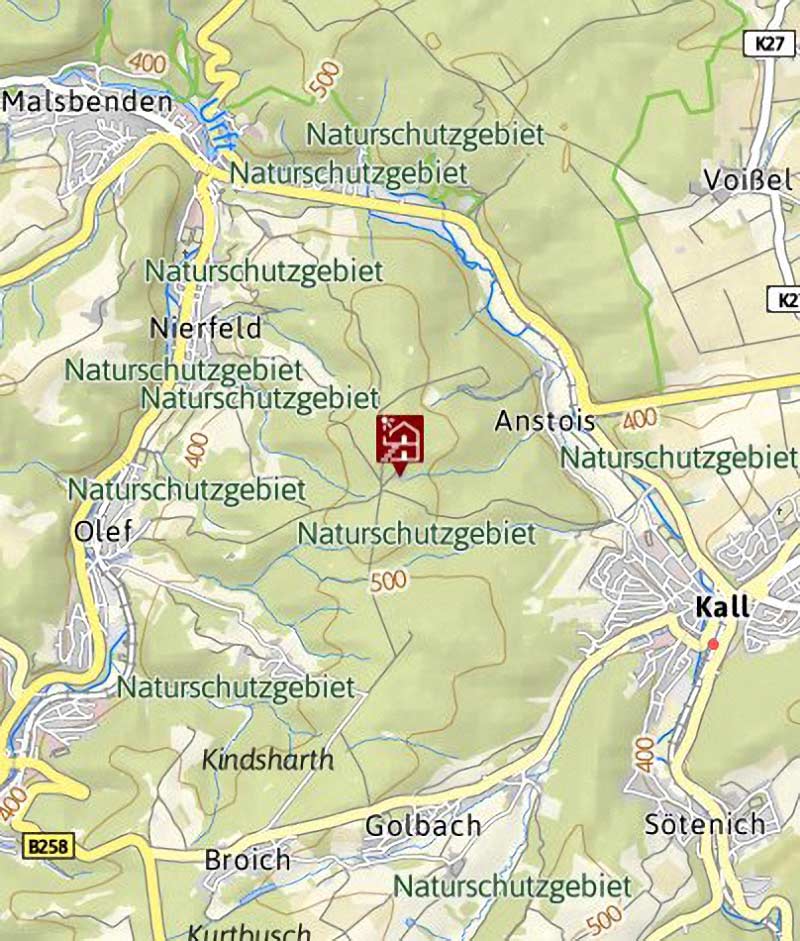 A good start
Situated in the middle of the forest, framed by nature reserves, not far from the intersection of several hiking trails, among them the Eifelsteig: a better starting point for hiking tours than from the Waldquartier Wackerberg cannot really exist.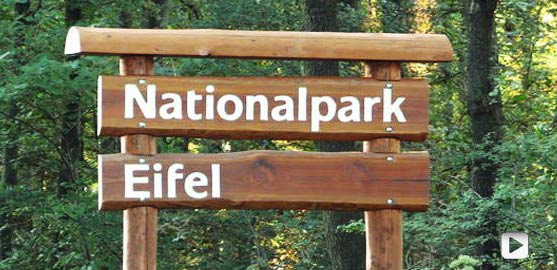 En route with Rangers
Of course, anyone can hike the Eifel National Park on one´s own: 240 kilometres of hiking trails are marked out, including easy hikes for visitors with limited mobility, but also the four-day wilderness trail across the entire National Park.
Exciting are especially the hikes and boat trips with rangers (free of charge and without registration) as well as individual tours with forest guides.
If you prefer to travel with relaxed pack animals, you can join a tour with lamas lamas or donkeys outside the National Park. An interesting Eifel route for less exotic hiking companions is presented by a guide for travelling with dogs.
Bicycling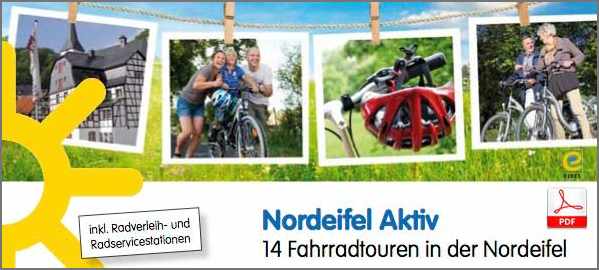 Just a few years ago, mostly recreational cyclists with tight calves dared to venture into the low mountain range. An excellent physical condition is not an obstacle to cycling in the Eifel today, but it is no longer a prerequisite for a bike tour in the Eifel.
There are quite a number of rental stations for electric bicycles (e-bikes, pedelecs), which take away the horror of many ascents. The dense network of signposted cycle paths also often leads along abandoned railway lines, along rivers, streams and lakes or over the wide plateaus with picturesque views. This applies, for example, to the Urft and Olef valley routes, the Erft and Ahr cycle paths, the Vennbahn cycle path, and the newly redeveloped Kyll cycle path, which runs for the first 30 km through three countries.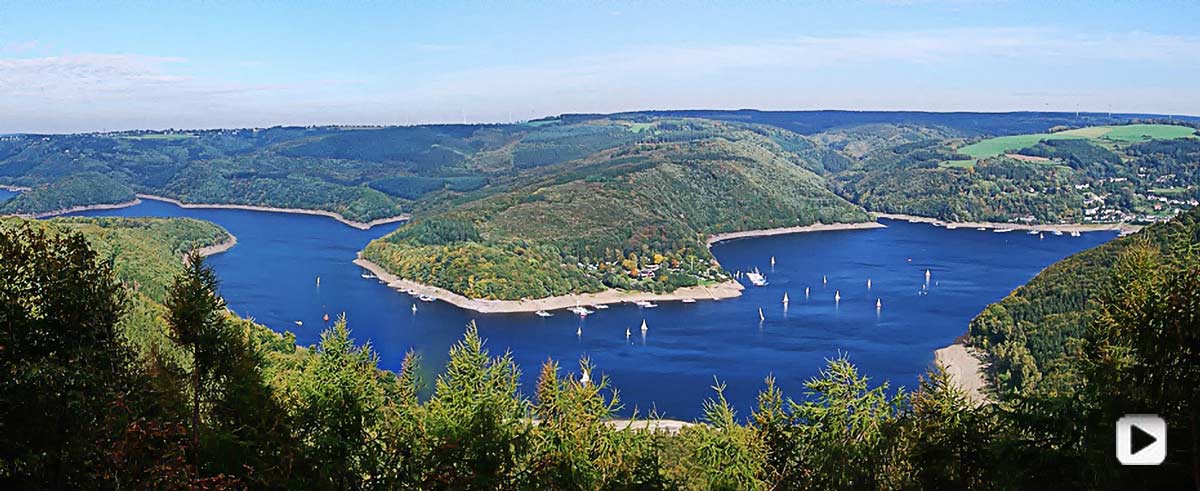 Water sports & more
A reservoir is considered a practical facility: it supplies the region with energy and drinking water and, at the same time, has a high recreational value. With a volume of more than 200 million square metres of water, Lake Rursee in the Eifel is Germany's second largest dam. With a good physical condition you can hike (27 km, approx. 7 hours) or cycle in one day. This is just as long, but it goes a little faster (about 2.5 hours).
Above all, however, the Rursee is an attractive water sports area: in addition to the natural open-air swimming pools (Beach Club Eschauel, Einruhr nature experience pool, Eiserbachsee natural open-air swimming pool) the sailing boats also form the view of the lake when the weather is fine.
Rowing boats, pedal boats, canoes and sailboats can be rented. Fishers request fishing permits, divers can take part in dives, surfers travel with their own equipment.
A number of other, albeit much smaller, lakes offer alternatives for water sports enthusiasts: with its various leisure facilities (large sunbathing lawn, tennis courts, mini-golf, bowling alley, playgrounds, water play equipment, water slides, beach volleyball fields), Lake Kronenburg is a particularly worthwhile destination for an excursion with the family. Sailors can pursue their hobby as well as surfers and pedaloers. Since the summer of 2013, the first "water rope course" has been floating in the Kronenburger See in Germany. Windsurfing, diving, rowing, canoeing and canoeing are possible at Lake Freilinger See near Blankenheim. The State Agency for Nature, Environment and Consumer Protection has been certifying the lakes in the Eifel region as having the best water quality for years.